We held the inauguration ceremony of "Tsuyama City Kuwadani ELIS Power Station" which signed a business agreement with Tsuyama City and JA Tsuyama.

This power plant is a self-sustaining power source model for local production for local consumption that uses the discharged water from a hydroelectric power plant, which is one of the few in Japan.

Compared to the propeller type, it is less likely to be clogged with dust, is easier to maintain, and can generate electricity even when the flow velocity and water depth are low.

At the inauguration ceremony, Mr. Keizo Taniguchi, Mayor of Tsuyama, gave a congratulatory speech, starting with a greeting from the organizer representative by our CEO Kuwahara, and finally, the mayor of Taniguchi and Kuwahara cut the tape.
****************************************
■ Greetings from the organizer ■

Hello everyone. My name is Jun Kuwahara and I am the representative of ELIS CO., LTD., a power generation company. This project was signed with Tsuyama City and JA Tsuyama at the Tsuyama City Hall on February 4, 2016 as part of Tsuyama City's vision for sustainable urban development, "Low Carbon City Tsuyama." It is proceeding based on the agreement.

After that, in order to optimize the shape of the turbine blades of the open type fluid water turbine, we received a part of the support from the Okayama Prefectural Industrial Promotion Foundation, and the Department of Systems Engineering, Faculty of Engineering, National University Corporation has knowledge of fluid engineering. Computational fluid analysis with West Japan Fluid Engineering Laboratory Co., Ltd. After that, it was optimized through research and development of model experiments. We commercialized the newly developed mini hydroelectric power generation system WaterWeco, which has an output of 40% or more even when there is stagnation at a peripheral speed ratio of around 1.0, and succeeded in achieving the first goal of cost reduction level in September of this year. did. Finally, at the end of last month, we were able to finish the installation work of the water turbine and control panel.

In recent years, the so-called "gas station blank area", especially in the mountainous areas, has expanded rapidly, and according to the Ministry of Land, Infrastructure, Transport and Tourism, two or three gas stations are closed a day. Such areas are about 30 kilometers one way to get petrol. Now that the Paris Agreement has come into effect, there is an urgent need to break away from such an inconvenient and high-carbon emission model. By effectively utilizing such renewable energy that was originally abandoned and using it as a gas station alternative station, it is possible to build an energy system that is almost free after the initial investment is recovered. In that respect, this initiative is very significant. Furthermore, as a circular economic model, electronic money payment terminals that can also use local points can be installed. It is unprecedented in Japan as a sustainable low-carbon economic cycle model that uses natural energy that does not emit any greenhouse gases such as CO2.

In addition, taking advantage of the characteristics of a distributed power source, it can also be used to charge mobile phones in the event of a power outage in a disaster.
Furthermore, because it is a campsite, such small mobility does not require the manager to go to a distant gas station to refuel, and children can spend comfortably without waking up because they can look around quietly at night. It has a good reputation. Of course, since electricity is used for familiar mobility in parallel with classroom lectures, it can also be used for environmental education for children who will lead the future as a natural energy experience facility.

We hope that this facility will be disseminated not only nationwide but also to the world as a sustainable low-carbon economic cycle model as an important initiative to achieve the vision of "Low-carbon city Tsuyama." Thank you very much for gathering such a large number of people while you are very busy today.

We look forward to working with you in the future.

****************************************

After the inauguration ceremony, many TV stations and newspaper companies were inundated with interviews, and I was able to reaffirm the high level of interest in mini hydropower generation.

We would like to continue to disseminate such a "sustainable low-carbon economic cycle model" as an alternative model for the ever-increasing blank areas of gas stations in mountainous areas.




Photo 1:Congratulatory message from Mr. Keizo Taniguchi, Mayor of Tsuyama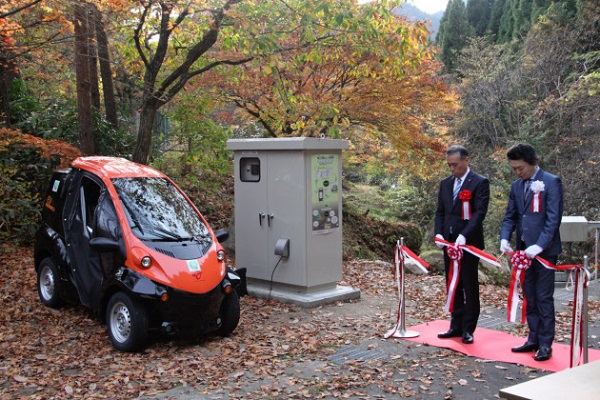 Photo 2:Ribbon cutting ceremony



Photo 3:Interviews with TV stations and newspapers



Photo 4:Tsuyama City Kuwadani ELIS Power Plant "High-efficiency open-type mini hydroelectric power generation"
* Output efficiency of 40% or more at a peripheral speed ratio of around 1.0



Photo 5:Tsuyama City Kuwadani ELIS Power Plant "Control Panel" and Ultra-Small Mobility "Coms"
* Charging the generated electricity from the control panel to "COMS"



Photo 6:Environmental Awareness Panel "Low Carbon Economic Circulation Model" Used for Environmental Education
* This panel is made of limestone instead of plastic.